Overview
Summary of Benefits
Testimonials & Comments
Features
How It Works
Technology
Benefits
Partnerships
---
Overview
Simplify how physicians interact with medical information, without attempting to change their current practice methodology.
Improve medical transcription processing time and the accuracy of patient charts.
Reduce costs. Speed turnaround. Enhance patient care.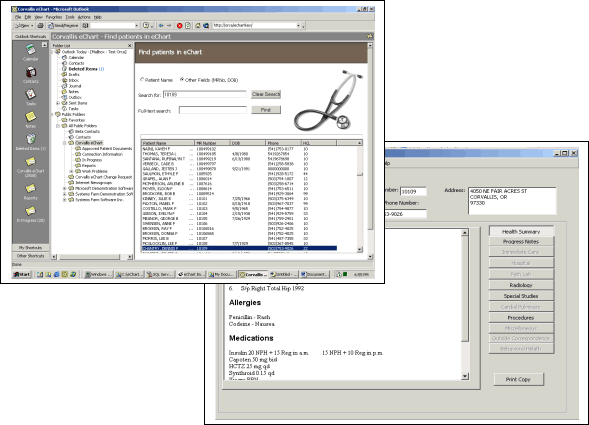 Reduce chart pulls by 50%.
Increase physician and provider productivity with less effort, in less time.
Leverage existing IT infrastructure and reduce costs.

Summary of Benefits
Saves Physicians time, while minimizing disruption.
Reduces the amount of time it takes to approve and post a medical transcription.
A reliable, easy to use solution designed by and for physicians and health professionals.
Physician and health professional knowledge and experience is built into this state-of-the-art healthcare solution.
Simplify how physicians interact with medical information, without attempting to change their current practice methodology.
A document solution that does not alter the way the physician practices medicine.
Provides a foundation upon which healthcare providers can build a robust, functional computer-based patient chart solution that fits within current workflow patterns, while overcoming the limitations of today's largely paper-base charts.
Makes the analysis of textual content in large numbers of patient charts possible.
Provides better information and clinical knowledge management.
Makes reporting on the time required to process transcriptions and chart updates readily available.
Transcription, patient, provider, appointment and other important information integrated in one tool.
Microsoft® Outlook and Internet Explorer access.
Provides a cost effective alternative to more proprietary solutions.
A secure solution to the daily needs of the clinical environment.
Testimonials & Comments
| | |
| --- | --- |
| | "Can you do a 15 – 20 minute overview of eChart at the shareholder meeting Monday night? That is so cool, the docs will go nuts over it!" |
| | -- Senior Clinic Administrator |
| | | |
| --- | --- | --- |
| | "He was very impressed. He was actually more impressed … and very complimentary toward the change in (…) MIS focus that was actually considering physician productivity and how things *should* work to benefit the physicians as much as the rest of the staff and patients. After all, the physicians *are* our production personnel." | |
| | -- Healthcare CIO | |
| | | |
| --- | --- | --- |
| | "Man, this is the coolest thing to come along (…) since I have been here. Every doc in the audience will get a (great feeling) about this!" | |
| | -- Senior Physician | |
| | |
| --- | --- |
| | "He was very impressed with the concept so far. He feels … it will represent a huge productivity gain for the physicians, something far beyond anything we have been able to show to date. (I agree, that's why we're doing it, right?)" |
| | -- Clinic CIO |
How It Works
Features
Review and approve transcriptions in E-mail Inbox.
Easy to use.
Fast sorts.
Fast finds.
Fast text string searching.
Archiving.
Audit trails.
Advanced security.
Physician editing possible if desirable.
Physician signature.
Delegation of clerical functions.
Problem transcriptions e-routed to clerical staff for resolution.
Hand written notes may be included.
Includes installation, training and full documentation.
Full implementation by Microsoft Certified Solution Provider, at the partner level.
Easily modified to suit the specific needs of physicians.
Benefits
Reduce the effort to update patient charts.
Reduce time lags in provider approvals of transcriptions.
Improve turnaround time of chart updates.
Improve accuracy of charts.
Improve access to patient charts for all providers.
Improve security of patient charts.
Maintain paper-based systems, as required.
Extend investment in IT infrastructure.
Other benefits include:
ease of use
clinical focus
price/performance ratio
reliability
integration and compatibility
performance
common format for additional functionality
security
customer support
Technology
eChart™ is an integrated solution providing maximum benefits for security, scalability, reliability and performance. The solution includes, but is not limited to:
Microsoft® Outlook
Microsoft® Internet Explorer
Handheld Devices (under development)


Microsoft® Exchange Server
Microsoft® SQL Server
Microsoft® Windows 2000
Patient charts are easily accessible without modifications to existing information systems. eChart™ requires near zero maintenance and administration. The system provides an elegant interface to patient charts, connecting easily with the following legacy systems:
Transcription Services
Patient Data
Provider Information
Appointments Records
Where these facilities are not available, reliable eChart™ brand solutions may be substituted. Other features of the technology include:
Import Engine
Workflow
Collaboration
Smart Printing
Audit Trail
Archiving
Large and medium institutional customers may elect to buy the LAN-based solution, while Transcription Service Providers and Healthcare Internet Providers may elect to purchase the web-based version of eChart™.
Full compliance with evolving medical standards are under development. Areas of coverage include:
Full HIPPA compliance
HL7
ICD-9
CPT coding integration (under development)
Partnerships
Microsoft
Systems Farm Software Inc. is recognized by Microsoft Corporation as a leader in knowledge management solutions. Since 1994, Systems Farm Software Inc. has build advanced solutions for business, government and the research community using Microsoft technologies.